The final decision regarding debated cuts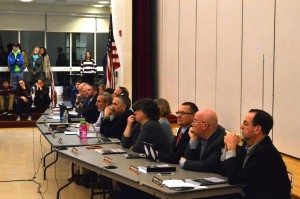 After weeks of examination and compromise, the school committee has created a new school budget that was passed on Thursday, March 10, 2016. The old proposed budget included the removal of a music position, the reduction of a full-time art teacher to half-time, and the elimination of a second grade teaching position. These cuts did not bode well with the public as many came to meetings following the old proposed budget's announcement to voice their opposition.
The newly passed budget restores the second grade teacher position as well as the full-time art position. After compromise between the school committee and the music department, there will be 4.6 music positions (a reduction of .4 from the previous school year). To make up for revoking cuts, the school committee searched and dissected the budget to find areas for further reductions. $100,000 will be taken out of the high school's capital budget as well as $25,000 from technology and $25,000 from excess and deficiency.
Although the personnel cuts have been eliminated from the budget, the cuts taken from other areas will have an affect on the buildings. By removing $100,000 from the high school capital budget, there will not be enough money for any significant updates. With the additional $100,000 the school may have been able to upgrade science labs and make other improvements; however, the new budget only leaves enough money for replacing the high school's current boiler with a new one.
It has been a long period of push and pull to compose the newly passed school budget, but there will still be repercussions from the new cuts.